The Team

GDM is Minority Business Enterprise (MBE) and Disadvantage Business Enterprise (DBE) certified with the city of Chicago, States of Illinois, Wisconsin, Missouri and New Jersey, the California Public Utility Commission (CPUC) and the California Unified Certification Program (CUCP). Meet the team behind GDM:
Greg Gates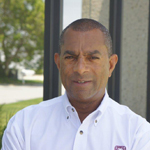 Greg Gates has over 20 years of sales executive and entrepreneur experience in the states of Ohio, New Jersey and Illinois. Before founding GDM, Gates worked as AT&T's sales director, working in sales development and management, staff development, and corporate account management. At TCI, he was the director of business development. Gates additionally worked as a facilitator for advanced management and marketing learning events for middle and executive managers, while teaching business management and marketing at Lewis University in Romeoville, Illinois for 12 years. Gates has an MBA from Baldwin-Wallace College and a Bachelor of Business Administration from the University of Michigan.
Jack Lentz, Vice President, Information Technology
As GDM's vice president of information technology, Jack Lentz is responsible for the company's telecommunications services network design and project management. Prior to GDM, Lentz was director and MIS at CCC Information Services, where he was responsible for managing resources, schedules, costs, and project issues for national operations and maintenance projects, including Cisco, Cabletron, Juniper equipment, and Microsoft server software. He also served as senior consultant at Managed Network Consulting, and as senior network engineer at CAN Insurance. Lentz has a B.S. in Telecommunications Management from DeVry, and numerous certifications in hardware, software and project management skills.
More About Us